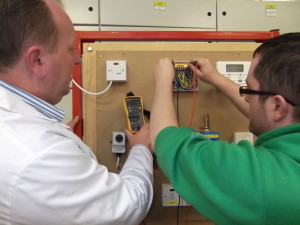 Employers play a key role in the success of apprenticeship in Ireland. Apprenticeship aims to provide learners with the knowledge, skill and competence required to perform effectively as employees with the potential to progress and ability to respond to the emerging needs of the workplace and new techniques/technologies employed in their occupation.
Apprenticeship also provides Industry with employees who have acquired mastery over the underpinning knowledge, skills and competences relevant to their occupation.
Benefits for Employers:
Apprenticeship courses are based on uniform, pre-specified and industry agreed standards;
Apprenticeship courses comply with current and future needs of the chosen occupation;
Through the systematic development and assessment of skills, knowledge and competencies, apprentices become more productive and reach efficient worker standards more quickly;
Apprentices receive a Training Allowance while attending off-the-job training.
Employers wishing to recruit apprentices may advertise their vacancies on Jobs Ireland.  However, before registering an apprentice, employers must be approved by SOLAS. Contact the Apprenticeship Team for more information on apprenticeship and registration.
Useful employer information is also available from the National Apprenticeship Website.