Donegal Education and Training Board  is committed to developing a culture of quality, and ensuring that learners participating in a programme of further education and training enjoy a quality assured learning experience.
Following the amalgamation of Donegal VEC and the former SOLAS training centres in Letterkenny and Gweedore, Donegal ETB is currently operating under two legacy quality assurance agreements with QQI, the independent State agency responsible for promoting quality and accountability in education and training services in Ireland (for further information, see www.qqi.ie ).
The resource documents associated with the legacy QA Agreements are listed below for information purposes:
QQI published Core Statutory Quality Assurance Guidelines in April 2016, followed by the Sector Specific Guidelines for ETBs in May 2017. Donegal ETB is now working on developing new quality assurance policies and procedures for the amalgamated organisation.
For QA policies and procedures specific to each Donegal ETB Further Education and Training centre under the legacy agreements, please contact the centre in question directly. Contact details are available at www.donegaletb.ie.
The development of a comprehensive suite of common quality assurance policies and procedures for Donegal ETB will be a long-term project; as new common policies and procedures are developed and approved by the appropriate governance structure, they will be published on this page, and will supersede the existing individual policies and procedures which are currently available in each centre.
Governance and Management of Quality Assurance: Roles and Responsibilities
Donegal ETB currently uses a largely executive governance structure. Oversight of governance is currently provided primarily by the FET Senior Management team.  The diagram below represents the current management and Governance structure within the ETB's Further Education and Training service.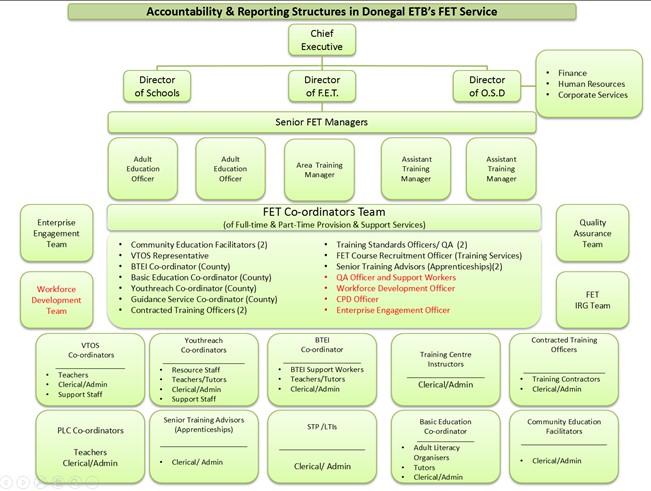 The structure allows for the executive decision making capacity of the FET Senior Management Team to report into the Chief Executive/Director's Forum. In turn The Chief Executive reports to the ETB board to update the board on developments within FET along with other matters.
The FET Coordinators team which represent all the full time and part time programme types and the 13 ETB FET centres meet monthly and this provides an additional layer to the current governance model.
Developments are currently in progress to develop new structures, policies and procedures to manage the governance of quality assurance in line with the requirements of QQI's new Core and Sectoral QA Guidelines.  A new proposed governance structure is outlined below. As the new governance structure is developed and approved, updates will appear here.
Similarly governance models are being developed for programme validation as per the QQI requirements and when developed will appear here also.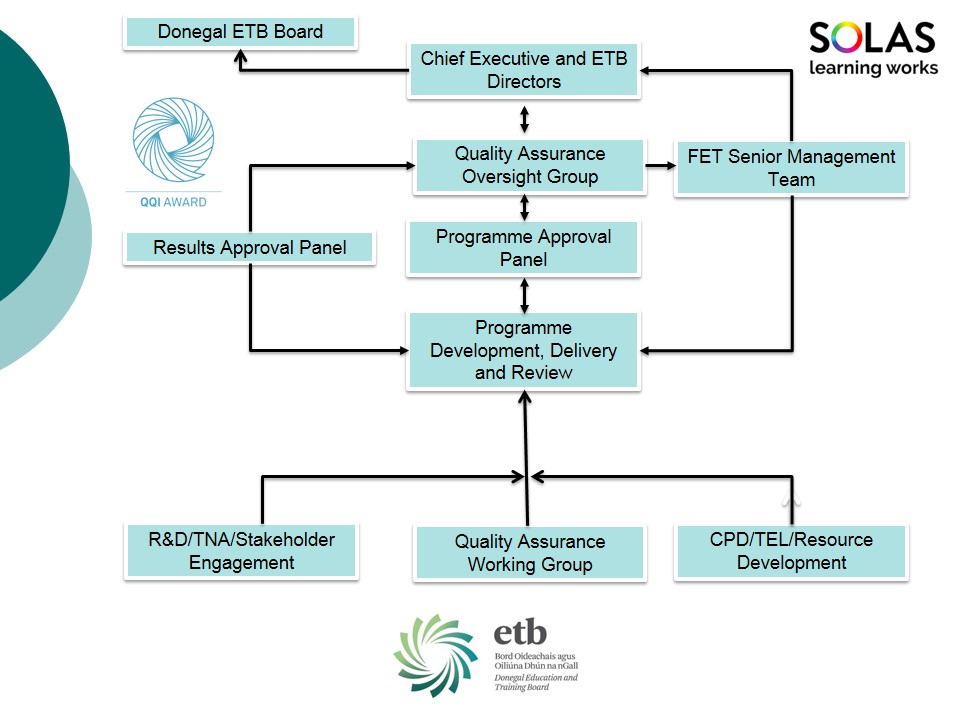 Programme Design and Approval
Presently Donegal ETB Centres or programmes wishing to develop a programme/module may make a proposal to develop to the FET Senior Management Team, where consideration is given as to whether the development is in line with identified organisational goals and national strategies. Once the proposal for development has been approved by the team, development may proceed. Once complete, the programme/module is evaluated against a range of criteria by the Quality Assurance team.  The FET Senior Management Team reviews the recommendations of the Quality Assurance team and if the proposal relates to the development of a new QQI programme or module the Quality Assurance team submit for validation to QQI.
For non QQI programmes and modules where the awarding body is external programme approval is requested through a similar process with the outcome being a submission for qualifications approval to the relevant awarding body.
Donegal ETB is committed to creating a revised programme approval model in line with the recently published QQI programme validation criteria and will be published when available
Quality Assuring the Assessment Process
Donegal ETB has a shared vision for teaching and learning as outlined in its Statement of Strategy.
Donegal ETB delivers QQI programmes leading to major awards under the Common Awards System (CAS), as well as delivering a number of non-QQI awards, such as City & Guilds, VTCT, CompTIA, Accounting Technicians Ireland, Microsoft, ICS Skills and others.
Learners are provided with briefs appropriate to the NFQ level, for all assessments they are asked to undertake. These include details of the assessment task at hand, criteria & marking schemes and deadlines where appropriate. It is the learner's responsibility to complete assessments and demonstrate their achievement of learning.  All learners are expected to sign statements of authenticity with respect to their assessments. Formative and summative feedback, which occurs during and after assessment tasks, are crucial elements of effective teaching and learning within Donegal ETB.
The integrity of assessment processes is monitored through the Internal Verification and External Authentication Processes, and approved by the Results Approval Panel.
Internal verification (IV) procedures check that assessments have been undertaken in a quality assured fashion: the correct assessment instruments have been used, learner details and results correctly entered, and for a sample of learners, marks are checked.
The External Authentication (EA) system is a core element of ensuring the quality and integrity of the assessment processes. It is the role of the External Authenticator to review the IV report to ensure that assessment has been undertaken in a quality assured manner, to review the learners' assessments to ensure that they have been assessed in a fair and consistent manner, and to authenticate that the grades given are in line with the national standards for that level. Donegal ETB operates a panel of External Authenticators selected from the QQI panel of EAs.
The Results Approval Panel (RAP) provides an opportunity for the FET senior management team to review the results of a given assessment period, identify issues arising out of the assessments, and decide on recommendations for future actions to be taken.
These IV/EA and RAP procedures facilitate the fair and consistent assessment of learners, and support academic decision-making which reflects the interests of learners and the maintenance of standards.
Learners have the right to appeal their results for QQI awards, should they not agree with the assessment judgement that has been made. Learners may have their assessment scripts reviewed by highly experienced appeals assessors who are independent of Donegal ETB. In the event that their appeal is upheld, Donegal ETB informs QQI of the amended grade.
Non-QQI assessments are undertaken in line with the quality assurance regulations of the certifying body.
Donegal ETB is currently developing a set of common assessment policies and regulations in line with the national Assessment handbook being devised collaboratively with ETB's and the Further Education and Support Service. This Assessment handbook is currently being rolled out across centres with a view to implementing the policies and procedures within 2018.
Donegal ETB Learning and Training Experience
For detailed information regarding policies and procedures relating to the learning experience in a particular centre please contact the centre directly.  As new policies and procedures are developed that are common to all Donegal ETB centres, they will be published here.
Learner Supports
The Adult Guidance and Information Service offers impartial and confidential information, advice, guidance and counselling on the educational options that are available both within Donegal ETB and with other education providers. The aim of the service is to support the learner to make the right decisions about returning to education and training and to help the learner make those decisions within the context of their wider life.
Throughout all centres in Donegal ETB, learners are encouraged, at interview stage, to disclose any special needs or disabilities they may have, in order that appropriate supports or reasonable accommodations may be put in place. Where such a disclosure is made, an appropriate staff member will meet the learner to discuss the nature of the supports that may be required.
Every reasonable effort is made to support learners with differences, either before admission or once they have started on the course. Such differences might include prior learning or experience, maturity, differing capabilities or other. In this case, the supports needed will be agreed in consultation with the learner.
Donegal ETB Staff Recruitment and Professional Development
All Donegal ETB courses are delivered by suitably qualified staff, with either Teaching Council recognition, or Train the Trainer certification as appropriate.  All staff are recruited in line with Donegal ETB HR protocols. It is a requirement that all staff teaching on ETB programmes be qualified at least one level above on the National Framework of Qualifications the subject they are the teaching.
Donegal ETB is committed to growing as a learning organisation and ensure that all staff have access to continuing professional development opportunities. This includes enabling staff to enhance their skills, update competencies, explore modern teaching methods and collaborate with colleagues.
Information Management
Donegal ETB has data protection policies in place to comply with current legislation. Access to databases is by named and authorised personnel only for the purposes of entering data in local centres and for reporting as appropriate at local centres or centrally within Donegal ETB.
Self-Evaluation and Monitoring
Programmes are reviewed at the end-of-course evaluation at centre level. These reviews provide an opportunity to review assessment loads, assessment methods, and other aspects of course delivery, and where necessary amend these based on learner and staff feedback.
Currently, courses are monitored at centre-level with mid-course and end-of-course evaluations. This allows issues to be identified quickly and to be acted upon, and further supports to be put into place, should these be necessary. Internal Verification processes provide an opportunity to monitor the assessment processes, while the External Authentication and the Results Approval Panel (RAP) meeting provide opportunities for the monitoring of results and issues arising from that particular assessment period.
RAP reports are reviewed in collated form by the QA Management Group, which facilitates the identification of long-term trends.
Donegal ETB has completed an Executive Self-Evaluation of the entire organisation, and a report outlining the results of that self-evaluation is available here:
Our 'Quality Improvement Plan' is available here:
Engagement with Stakeholders and other bodies