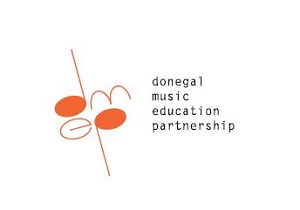 Donegal Music Education Partnership was one of two national Local Music Education Service Partnerships piloted in a joint initiative between Music Network and the Department of Education in 2005, and has gone from strength to strength ever since.
It provides quality, after-school, instrumental and vocal tuition on a wide range of instruments in numerous centres across the County, largely held in Donegal ETB's network of schools, colleges and centres.
Genres taught include classical, traditional, jazz and contemporary/rock music.
One of the key guiding principles of the DMEP is that music has the potential to make a vital contribution to all our lives. Learning to play an instrument or singing in a choir helps to build confidence, explore creative expression, learn discipline and acquire the skills for social interaction. Aside from the social benefits, studies have proven that students who learn to play an instrument develop a greater language capacity and a greater ability to learn a new language as well as a higher proficiency in mathematics.
What we offer
Weekly Tuition
Individual one-to-one or Group tuition (max. 3 in a group) is offered on a range of instruments.
The tuition calendar follows the school academic year and consists of 30 weeks tuition from September to May.
The standard duration of the weekly lesson is 30 minutes although those students preparing for practical exams are encouraged to take 45 – 60 minute lessons once they reach the standard of Grade 5 and above.
The lessons are held after-school hours.
While the service is primarily aimed at children and young people, tuition is also available to adults.
Performing Groups
In addition to weekly tuition, all students are encouraged to join one of our many performing groups, both instrumental and vocal, and these are suited to both the early learner and more experienced musician. These include a Junior, Youth and Chamber Orchestra, Youth and Junior Choirs, Groove Orchestra alongside an adult instrumental group and an adult choir.
Additional Activities
Include concerts, workshops, seminars, masterclasses and student performances.
Instrument Hire
An excellent instrument hire service is also available allowing the student to explore and practice on the instrument before making the commitment to purchase one of their own.
Tuition Fees
These are usually paid in 4 installments over the course of the school year although these can be tailored to suit individual needs.
For further details please visit on website on www.dmep.ie or contact us on (074) 9176293 / MusicEducation@DonegalETB.ie